go back to recent Journal entries
Journal Archives
Sister Mary Eulalie....R.I.P.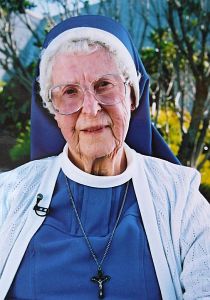 The last of those who taught me the piano has died. Sister Mary Eulalie lived, essentially in good health, for 102 years and slipped away in August, just a few months after my great teacher Maurice Till died. The following obituary for Sister Eulalie (as I always called her) appeared in The Press on 20 August, written by her great-niece, Maryanne Twentyman, with whom I had spoken on the phone a short while earlier.
Woman of God set Houstoun on path of greatness
When acclaimed New Zealand pianist Michael Houstoun performed a concert in Wellington recently, he might have privately dedicated the performance to the woman who set his career on a path to greatness.
Just two days earlier Houstoun was informed that his first piano teacher, Sr Mary Eulalie Martini, had died, surrounded by members of her extended family. She was 102.
The member of the Sisters of Mercy religious order was born in Hokitika in 1909 and christened Mary Margaret Alacoque Martini. Her father was a goldminer and, with his wife, raised 10 children in the settlement of Stafford.
The Martinis were strict Catholics and made their children recite the rosary every evening. Sr Eulalie once wrote: "one of my brothers used to bang on a jam tin and scream out 'roll up you kids for the Rosary'."
Mary and two siblings were sent to board at the Mercy Convent in Hokitika. There the "prayerful pioneering nuns" inspired Mary to offer her life and service to God. In 1928 she entered Villa Maria novitiate in Christchurch. During the next 60 years her teaching would take her to Cobden, Greymouth, Timaru, Christchurch and Darfield.
While teaching in Timaru, Sr Eulalie was rewarded with her "ultimate gift", a nine-year-old boy with a God-given talent: Michael Houstoun.
He recalls: "It was my first experience of nuns in the early 1960s. They were dressed from head to toe in these massive black gowns. Only their fingers showed and there was this little bit of face pinched up in this incredible headpiece."
Houstoun admits that during his first few classes with Sr Eulalie he was "slightly in awe and, I guess, slightly frightened' but he soon got used to the environment where his talents were nurtured and honed under the astute nun.
"What I found quite unbelievable was that she never played a note for me. To this day I don't actually know if she could play...but boy could she teach. She would correct my mistakes and celebrate my success."
While Houstoun says his relationship with Sr Eulalie was "special", he does not recall a motherly bond. "She often talked about me being her gift from God - her special edition."
(! comment below)
Houstoun was left in no doubt of Sr Eulalie's affection for his talent. Once she was satisfied that new compositions for exam work were mastered, she would leave the room in search of anyone ready to listen.
"I'd be left in the music room, then all of a sudden there would be a rustling and clanging descending through the hallway and a stream of nuns would be ushered into the room to hear me play. Sr Eulalie would take pride of place at the top of the piano and instruct me to begin. Her face said it all."
Fifty years later Houstoun had a sense of déjà vu as he visited his "wonderful teacher" on one of his many trips to Plymouth Court Rest Home in Hokitika. Arriving unannounced, Houstoun agreed to play for the residents and Sr Eulalie, then in her late 90s, ushered them into the main lounge for an impromptu recital.
"She introduced me and I played a few pieces for them," he recalls. "Afterwards she told me she was disappointed - she felt the residents hadn't listened properly," Houstoun laughs. "She was livelier than any of them, even though she was by far the oldest there."
"The most wonderful thing about her was that she knew when it was time to pass me on to someone else," Houstoun says. Sr Eulalie set her star pupil up to audition with renowned teacher Maurice Till in Christchurch, who agreed to take Houstoun to the next level. By the age of 18 Houstoun had won every major competition in New Zealand.
Sr Eulalie loved life. As a member of her extended family I can vouch for her infectious sense of humour and humility. Her mantra was: "If I wake up in the morning and I'm still alive, God has something for me to do." She encouraged us all to live by that and happily led by example.
Aunty Mary, as we knew her, loved her family. She was intensely proud of her 26 nieces and nephews, 66 great-nieces and nephews and 102 great-great-nieces and nephews. She will be missed by us all.
The final words belong to Houstoun, who was the closest thing to a son for a woman who gave her life to God. "As a young student I respected her as my teacher and enjoyed her company...but as an adult, I loved her absolutely."
Maryanne Twentyman
• Sister Mary Eulalie Martini, born Hokitika 4 June 1909, died Hokitika 2 August 2011.
(The joys of phone interviews. What sounded to Maryanne as 'edition' was meant as 'addition'.)
One thing I will add to this as I wish to speak to Sr Eulalie's sense of honour. The main reason I began lessons with her was the realisation that my 'teacher' from ages 5 to 9 did not know how to teach and was in fact something of a fraud. After four years I played essentially by ear and had no idea how to practise. My family had to find a new teacher but there were issues when it looked as if going to the convent would be the best idea. My father was born into a Catholic family but had lapsed in order to marry my Methodist mother whose own family had somewhat disapproved of the marriage and had extracted a promise that the offspring would not be raised as Catholics. Such stupidity! Anyway, I was allowed to go to the convent but there was an agreement that the nuns were not to attempt to influence me from a religious standpoint. And they didn't. Sr Eulalie never once brought up the subject of religion in the course of my lessons. Of course God was freely mentioned as He was taken completely for granted as far as she was concerned. She had not the slightest doubt that my musical talent was a "gift from God" and that it was my duty/fate to use it to "bring joy into the world." But there was never even a hint of trying to get me to agree with her. Ironically or not, it was probably her own unshakeable faith which provoked me to delve into the religious-spiritual sphere of life which continues with some avidity to this day. I still have no idea where my musical feeling comes from, but I may be able to lay my appreciation of such a mystery at Sr Eulalie's doorstep.

The Christchurch Arts Festival 2011
Christchurch has had an arts festival, against all odds. Along with the countless other problems created by the earthquakes of last September and February there was significant, and in some cases irreparable, damage done to most of the performing arts venues - the Town Hall, the Music Centre, the Great Hall of the Arts Centre, the Court Theatre and more. Collaterally the four best concert grand pianos in the city are no longer available, either damaged or trapped.
Certainly there were those who thought the arts festival should be abandoned, but the tremendous heart and will of director Philip Tremewan and his staunch supporters won the day. Instead of a two-to-three week festival crammed full of events they constructed a two-month fest with performances clustered around the weekends. It has shown itself to be a very successful concept and may well create the new festival template. Temporary venues were constructed in Hagley Park and lesser-known venues were put into action. Creative New Zealand came to the party with sufficient support to allow ticket prices to be kept to $20 and as a result most events quickly sold out. Christchurch lapped it up and a more satisfying experience from the performers' point of view would be hard to imagine.
I played seven times at the festival and here is how it worked.
11 August I fly down to Christchurch from Wellington with the New Zealand Symphony Orchestra and maestro Vasily Petrenko for the third of a three-concert tour. We play the Rachmaninoff Fourth Piano Concerto and Shostakovich's 'Leningrad' Symphony. The venue is the CBS Arena, a huge 'events' centre not at all suited for acoustic music. The piano is an old Steinway which, as the tuner commented, has "lost its projection". But notwithstanding the various difficulties it is a very happy evening and we play a good concert to a large appreciative audience. Because I have to play in New Plymouth the following day I leave immediately after the concerto and fly back to Wellington. The orchestra flies back too later that evening as accommodation in Christchurch is a problem with so many of the hotels severely damaged.
16 August The phone rings. It is Caroline Armstrong, the producer of 'Rita and Douglas' who has been talking to Philip Tremewan. I am persuaded to fly to Christchurch and abandon my original plan of a driving/ferry trip. The reason is an unprecedented 'polar blast' which has swept up the country bringing snow as far north as Auckland, completely blanketing the South Island and closing most of the principal roads including all ways into Christchurch from the north. I am reluctant to change because taking the car meant carrying clothes on hangers, carrying food, computer and other unnecessary but comforting things. However I must. So I fly down with one heavy suitcase through a smooth, dreamlike white-out and when I turn my phone on in Christchurch airport I get a text informing me that my ferry has been cancelled. After checking into the Camelot Motor Lodge I pick my way slowly through the snow and ice and slush, temperature 2 degrees C, to find something to eat. Almost everything is closed, including McDonalds and the supermarket (people can't get to work), but I do find one café open and have a good dinner.
17 August The rest of the cast and crew of 'Rita and Douglas' (Jennifer Ward-Lealand, Paul O'Brien, Nic Janiurek, Caroline Armstrong) make it in to Christchurch but there are problems getting the set out of Wellington. The decision is taken to move the opening night show from Thursday night (18th) to Saturday afternoon (20th) and open on the Friday evening - if we're lucky. I stock up on supplies for ten days in a motel room, including ingredients for a sausage/bacon/bean/tomato stew which I duly make. But it is a poor substitue for the cassoulet Mike made for me and which I had to leave at home.
18 August We find out that the set has made it across Cook Strait on a ferry (freight only, 6-8 metre swells) and will get to Christchurch around midnight.
19 August Paul and Nic work like dogs and we are able to open as (re)scheduled. We are a bit late starting but this is partly because our venue is the Rudolf Steiner school auditorium and even Christchurch people get lost trying to find it. The auditorium is perfect for the show - a fine proscenium arch stage just the right size, and a good acoustic for speaking and music. The dressing rooms are the toilets, but Nic has managed to make them if not glamorous at least pleasant and serviceable. The piano is the late Maurice Till's which his son Richard has generously made available to the festival. It is a piano that I know well having had lessons on it, practised on it, and played duets on it with Maurice for years. The performance is a big success and I am reminded how audiences find 'Rita and Douglas' to be a very moving experience.
20 August I pick up a Jucy rental car in the morning (how I love the independence a car provides) and we do our rescheduled show in the afternoon. Then I make my first highly anticipated visit to Canterbury Cheesemongers. I was delighted when I found out it was in one of the very few buildings in the CBD that had escaped serious damage and that it had reopened quite quickly after the February quake. The cheese coolroom is a work of art and the baking is wonderful, but supreme for me are the pork pies made once a week on the premises - easily the best available in New Zealand. I happily and greedily place an order for several.
We have another performance of 'Rita and Douglas' in the evening and about two-thirds of the way through there is a serious aftershock. It is as though some subterranean giant has delivered a kick right beneath the stage, so sudden and violent does it feel. The audience gasps but nobody moves. I am playing ('From the Port Hills', which I can see, snow-capped, from my dressing room - Gaia does irony) and immediately begin to sweat. But I also realise that it is only going to be that one jolt and so I don't stop. We play out what will remain an unforgettable show. It turns out that the aftershock measures at a mere 4.0 (locals barely flinch at anything less than a 5.0) but was centred quite close to the venue.
21 August We do our last 'Rita and Douglas' and thankfully things remain calm.
22 August I drive to Timaru to visit my mother. Jucy rocks to an aftershock as I wait in rush hour traffic on my way out of Christchurch (local knowledge is vital if one is going to avoid clogged streets in the altered city transport layout). The outside temperature gets to 20 degrees C - a rise of 18 degrees in just six days.
23 August Lunch with friend/composer/pianist Gao Ping after which he plays some new pieces for me, 'Outside the Window'. They are marvellous and beautiful, especially the way he plays them, and I shall learn them too. I had practised in the morning on my friend Gerald's (Dr Gerald Johnstone) Steinway, a piano that has been played by half the pianists in the world it sometimes seems, such is Gerald's generosity. And in the evening we dine together at a Vietnamese restaurant. As with most everything else a lot of cafes and restaurants were damaged and closed by the earthquakes. So pot luck doesn't work any more. You have to book and the restaurants are full all the time. If you are late your table will be given to someone else. There seems to be a heightened level of conviviality as a result.
24 August Practise, pick up pork pies (!), meet with Philip to discuss future projects, and dine in the evening at Edesia with my sister Paddy, her husband John and my nephew/godson Timmy. It's an upscale eaterie and although the menu is conventional (duck confit and tarte tatin for me) the cooking is excellent.
25 August Practise and in the evening play through my Schubert programme to Gerald and some invited friends and family. Such music! It's my first 'go' through the Drei Klavierstücke and I learn some valuable lessons. It is impossible to predict how a little pressure will show up the fallibilities in one's sense of security, although the things that have become automatic are often the first things to crumble when a hyper-conscious light is thrown on them. I know what to go over in my warmup for tomorrow's performance.
26 August Play the Schubert programme at 11am in what I call the Crystal Palace to a packed house and a heartwarming reception. The repairs hold up, although competition from a roaming helicopter puts my concentration to the test. Esteemed colleague and friend Sarah Watkins is there and we go to Gerald's afterwards to practise our duets for Sunday's concert.
27 August More duet practising and in the evening to a concert, the first subscription concert given by the Christchurch Symphony Orchestra in almost a year. Dinner first at Mary Smit's -delicious risotto and a brilliant pear/croissant bread and butter pudding whipped up by Gerald. The orchestra play to a packed house in the Aurora Centre (dead acoustic but comfortable seats) and start with Strauss's 'Don Juan'. They are not quite up to it and do better in the Rachmaninoff Second Piano Concerto which follows. Nikolai Demidenko is the soloist and it is impossible not to admire his fluid relaxed technique. He does seem though to have adopted the anti-romantic approach, pulling back from the tops of those characteristically surging phrases, and the result is too musically restrained for my taste. The audience love it and give him a very enthusiastic standing ovation.
28 August Sarah and I perform our duet programme (Debussy, Schubert, Fauré, Dvorak) at 11am to a sold-out house in the Crystal Palace. This concert is a tribute to Maurice Till who died earlier this year and who taught both Sarah and myself. Most of the duets we play I had played at some stage with Maurice. And most of the audience knew Maurice. So there is a lot of sentiment in the house. As well we play the concert on Maurice's piano (as I had the Schubert programme). All in all it is a unique and special event and a palpable success. Afterwards I sit with Maurice and Leila's grown-up children, Janet and Richard, and we reminisce and deconstruct and promise to do more of the same at a later date.
Back to the Camelot and a preliminary pack before dinner with Paddy and family.
29 August Drop off Jucy rental and check into flight after a slight repack to bring the bag weight down to the limit. Easy flight and Mike is there to meet me in Palmerston North. The film festival is on and we spend the rest of the day in the dark watching the flickering images.
Bravo Christchurch! Bravo Philip, Jo and the technical team, and all those enthusiastic audiences! Unforgettable.
(September 2011)


I'm getting old
I recently played at a ball. It was an excellent and highly successful event, over 250 people attending. It was mounted to raise both awareness and funds for a most worthy enterprise, Sustainable Coastlines, in their mission to clear the trash off our beautiful beaches, plant trees and promote positive community spirit. I happily confess though that my main reason for being there was to support my fine godson, Sam Judd, who is the motivator and prime operator for Sustainable Coastlines.
I was one of several musical items. I played fairly early in the evening, before the entrée was served (actually, as it turned out, while the entrée was served), 15 minutes of Lilburn and Kapustin. It was clear to me after one line of the Lilburn that the talking was not going to stop, and it didn't. And the more animated the music, the more animated the myriad conversations. Bedlam.
This was an entirely new experience for me. What to do? I won't say that a 'casting pearls before swine' notion didn't pass through my mind, and it was clear that I could do just about anything and nobody would know. So the immediate issue was one of integrity. I had to live with myself and my performance regardless of attention paid, and I had to do my best for the handful of punters who were tuned in and equally sorry about the din. And so I did my best, the only difference from my usual performance being that I took far less time between pieces.
There was a small blunder in one of the Kapustin pieces (never has a blunder been so not noticed) and I was interested later to think about why it happened. I realised that there are several elements that work to provoke my pianistic reflexes. There are the visual triggers - the look of the score, the look of my hands on the keys; there are the motor triggers - this movement is always followed by that movement; and there are tonal triggers - every sound provokes consequent movement. With so much ambient noise the tonal triggers lose their clarity and I wondered if this wasn't at the root of my trip-up.
As a child I was taught both at home and at school that when someone was giving a speech, reading a poem, playing a musical instrument or otherwise entertaining a gathering, you were quiet. It didn't matter whether you liked or were interested in what was happening, you were just quiet so that those who did like it could enjoy it. If there was noise someone would have called for silence ("great hunks of shush" I can hear my father, perennial MC, say). This was normal, everyone was taught as I was. It was called learning good manners. Times have changed. I'm getting old.
(27 July, 2011)

The Festival of Colour - 2011
Sunday 10 April: A bit knackered after two days of recording - Kapustin, Schumann, Ravel, Liszt and Bach - but revived by glorious flights from Palmerston North to Christchurch and then through to Queenstown. The plains, lakes, alps are mesmerising and topped by the uncanny approach into Queenstown airport past Cardrona on one side and The Remarkables on the other. Picked up a Jucy rental ("I'm Lucy from Jucy!"), served by an Irish colleen who was happy to be returning to Ireland in a few days - my first reminder of the transient population in Queenstown, soon confirmed by the sight of throngs of outdoorsy backpackers and the sound of foreign languages and heavily-accented English in the town itself.
Found the digs: okay, modern-ordinary, poor bathroom design, too much light leaking in at night (I'm used to sleeping in pitch black), comfortable bed.
Interviewed at 4pm, with Jennifer, by Marjorie Cook of the Otago Daily Times. Pleasant and not trite, it felt good to talk about Douglas Lilburn and his music.
In the evening first full run of 'Rita and Douglas' and then notes. Quiet bonding of our little group: actress Jennifer Ward-Lealand playing Rita, director Conrad Newport, producer Caroline Armstrong, AV/lighting/production man Paul O'Brien and stage manager Nik Janiurek. We are all enjoying the material and our confidence is building exponentially. Lots of laughs too.
Monday 11 April: Devoted to 'Rita and Douglas' - practising, rehearsing, notes, practising, rehearsing. In between I deal with my seriously ill mobile phone. "Usually with technology once things start playing up that's it" is the wisdom dispensed by the Vodafone guy as he sells me a new phone. Weather mild and sunny.
Tuesday 12 April: One more rehearsal, a preoccupied day, and in the evening the 'world premiere' of 'Rita and Douglas'. Dave Armstrong, husband of Caroline and writer/compiler of 'Rita and Douglas', is there in the full house. So is my niece Toni who comes back to the dressing room with her friend Sue and delivers a rave review. I must feel good because I go to the sponsor's 'do', although I stay close to the exit. I manage to drop only one piece of finger food on the floor. Everyone is very enthusiastic about 'Rita and Douglas'.
Wednesday 13 April: Off early to Wanaka via the Crown Range road which little Jucy takes in her stride - actually more zipping than striding. Time for a coffee before Lloyd Geering's 'Aspiring Conversation' with interlocuter fest director Philip Tremewan. LG is marvellous, erudite, lucid, witty and bold. He tells how the gods became God, how science and the Lisbon earthquake put an end to that, and how Gaia has emerged in 'his' stead. LG is in his 90s but delivers all this without a hitch in an unwavering voice and with only occasional reference to his i-pad.
Check-in at Tiritiri Lodge where I stayed at the last festival in 2009. Stephanie and Denis are the ultimate hosts and we pick up where we left off. A relaxing afternoon, a bit of practice on Denis's Bechstein, and in the evening The Bellbirds. Normally a quartet they were reduced to a trio by Don McGlashan's sad accident. But Sean Donnelly, Sandy Mills and Victoria Kelly deliver a great evening of original songs, delicious harmonies, minimal accompaniments and slightly nutty personalities. It is perfect for my mood and I loved the whole concert. It was later critiqued to me as "under-rehearsed" (you try turning a quartet into a trio!), but the loose friendliness of it, the in-tuneness of it, the musical intelligence and wit in the songs - it all rang my bell.
Thursday 14 April: Almost a day off. Jennifer, Dave, Jill Trevelyan (biographer of Rita Angus) and myself join Lynn Freeman for an Aspiring Conversation about 'Rita and Douglas'. Lively and interesting, I thought, and the one-hour restriction keeps us from saying too much. A bit of socialising, practice, domestic/secretarial duties, a Thai dinner with Jennifer, and an early night.
Friday 15 April: This becomes food day. First Tiffany (Stephanie's daughter) makes us three-cheese hotcakes for breakfast - fabulous. Later Jennifer and I drive to meet her friend Caroline at The Winehouse in Kawerau Gorge, right beside the bungy bridge, where we have a delicious lunch - chermoula prawns with chick peas, red capsicum, fried haloumi (I forget the green component), washed down with a nice rosé. Then in the evening, after picking Mike up from the Wanaka airport, we go to the Federal Diner for dinner and it is great. The Irish chef prepares standard dishes - I had boeuf bourgiņon, Mike had pork belly, we both had brioche-bread puddings - but she has a special touch, a certain understanding and feeling that lifts her cooking far above the ordinary. We drank local wines and left in a most pleasurable state.
Saturday 16 April: Although we had the official premiere of 'Rita and Douglas' in Queenstown, it now feels like the out-of-town tryout and today's two performances, at 7 and 9.30pm, become the real thing. The house is full both times, Jennifer and I (and Paul!!) hit all our marks, and a great feeling comes back to us from the audiences. Truly very satisfying. It is such a pleasure to play Lilburn's music and I feel it is enhanced within the context of the 'play'. People are obviously moved by the whole thing. Jennifer, Mike, Denis, Stephanie and I have a lovely brandy and debrief back at the lodge.
Sunday 17 April: I play my 'Jazzing It Up' programme at 1pm and Nikolai Kapustin's music makes Lilburn's seem like a walk in the park! Kapustin is not happy unless both hands are working to their maximum at the speed of light. But it is exhilarating and I love it, especially when I don't go off the rails. It winds up the audience too.
Toni came through from Queenstown and Mike and I have a lively hour with her before meeting up with festival director Philip Tremewan - genius! - for a wrap up. He is in brilliant form, obviously delighted with the success of the festival and the great satisfaction of the punters. He challenges me to come up with something interesting for the next one.
One more event to go, Voices new Zealand Chamber Choir, but before that we manage to persuade our new friend at the Federal Diner to serve us an early meal - a great beef hotpot with mushrooms, kumara, guiness, pastry-topped, plus a perfect pear and ginger cake. Food like this simply makes you happy and fills you with love for the world.
The choir is in terrific form, director Karen Grylls is at the top of her game, and there are many beautiful and exquisite moments. A wonderful close to the festival.
Monday 18 April: Overnight, after a full week of mild perfect weather, the temperature drops and there is a dusting of snow on the tops when we open the curtains. But the sun is shining. We pick up a takeout coffee from Café Gusto and a copy of the Otago Daily Times from the store, and Mike reads out the good review of 'Rita and Douglas' as little Jucy zips towards the Lindis Pass.

R.I.P. Maurice Till - teacher of music
Of course, Maurice Till was much more than a teacher of music: he was a performer playing from a large solo, concerto and chamber music repertoire, and his vocal accompanying skills underpinned his firm reputation. He was also a tremendous organiser of a host of musical activities, tireless and clever. But it is as a teacher of music that I want to pay tribute to him.
Music teachers are not the same thing as piano teachers. Piano teachers are plentiful and many are very successful. They produce pupils who play well, who have solid and fluent techniques, a basic grasp of rubato and musical inflection, and, if you're lucky, a bit of panache. Music teachers, however, are very rare. Sviatoslav Richter went so far as to say that music can't be taught, and in many ways I would agree with him. But while music can't be taught, it can be revealed. It is a very subtle art and requires a natural sympathy and bond between teacher and pupil. The teaching process becomes a business of coaxing, nudging, questioning, but always working with the way the pupil is actually playing, never adding arbitrarily or trying to 'change' the pupil. The words 'yes' and 'no' are hardly used at all.
The end result is that the pupil finds their own way with any piece of music. They don't feel that they are doing what their teacher told them. Their playing always feels natural. Quietly and gradually the pupil learns to trust themselves, to become self-reliant - perhaps the most important quality of all in a musician outside sheer musicality.
Real music teachers are self-effacing, generous and humble. Their approach will not work with every pupil. Their reputation as a teacher will rest on their pupil's success because they will not be able to declare a method and their pupils will not be able to describe how they have been taught. Real music teachers are not much interested in producing winners although they often do.
Maurice Till was a real music teacher and it was my great good fortune to be his pupil for seven years beginning during my third year of high school. I had been given a good foundation by Sister Mary Eulalie through the previous six years. She especially taught me about the necessity of discipline and practice. But I can say fairly that it was Maurice who made a musician of me. He showed me myself and, despite everything I have just written, I cannot tell anyone really how he did this. I can say that he never criticised me and he never praised me (at least to me directly). After any and every performance it was "bring the music in tomorrow and we'll have another look at it."
Maurice was generous in obvious ways, for example in the many extra hours of teaching that went way beyond what my university fees allowed - several hours extra, every week. But there was a subtle generosity too. Maurice was always very well turned out, as often as not in a 3-piece suit, crisp shirt, perfectly knotted tie, tiepin and cufflinks, clean shoes and tidy hair. My vanity on the other hand showed in dressing down, growing my hair long, bare feet. Maurice never once showed his disapproval of this although it must have offended him. I can never forget the tact with which he and his wonderful wife Leila managed to give me some money ('extra' from 'concert profits') to buy myself a decent coat to wear over my tails. I had been wearing my sister's faded, torn and generally distressed high school raincoat for a long time.
At his recent funeral (31 March, 2011) his son Richard, as part of his great address, mentioned that Maurice often regretted that his own teacher, Ernest Empson, did not bother much about technique; he expected you to work out what was required and then practise it in. Well, Maurice was the same and sometimes I too have regretted not having a more secure technical basis to my playing. But when I think back to my lessons, how glad I was that there were no more scales, no more exercises, no aural tests - just music, and as much of it as I could absorb.
And not just piano music. One of my fondest memories of my time as Maurice's pupil concerns what frequently happened after the lesson was done. We would play duets, but seldom original duets. Instead we played arrangements of overtures, symphonies, serenades, Mozart, Haydn, Beethoven, Brahms, Tchaikowsky, Weber, Schumann, Schubert. This was my introduction to the symphonic repertoire and a significant part of my musical education. Long after I stopped being a student, social occasions with Maurice usually ended in a session of duets. It is a very happy memory.
As I write this and think back to my lessons with Maurice Till, I feel that he taught almost by magic, that he somehow infused his musical spirit which activated my own. Whatever the truth of it I can say with certainty that there was only the music, and so it remains.
Maurice Till, teacher of music - R.I.P.