This Journal page will be used for ongoing thoughts on my professional life, and perhaps occasional observations on life in general. Books, movies, recipes, cds, dvds could get a mention. In other words, anything that strikes me as 'blogworthy'. If anyone reading these items would like to add their own observations I would be delighted. Please to send.
20 May, 2020
I was born to play for other ears. I have never spent a single moment at the piano when I wasn't projecting the music to a person present or imaginary. This created problems when I was a small boy. The impulse to play for others was simply "showing off" in the eyes of my father, anathema, to be disdained, and I soon learned not to play when he was within earshot. Fortunately not everyone shared his view - maybe some could see that he had quite a bit of the show-off in himself - and I was well-encouraged to develop my tendencies.
Looking back over my lifetime in music I can see that it is the communicative aspect of what I do that has the most significance. Like all serious musicians I have cultivated my musical intelligence, examined my emotions, looked at life as deeply as possible, but I'm only really drawn to what I can use to project the music. It's all very well to decide that a particular passage in a late-Beethoven sonata has 'transcendental' qualities, but how do you actually 'play' that? It is naive and probably pretentious to imagine that just by thinking such thoughts you are projecting them.
So I rely on my intuition. I play, I listen and I react.
I have discovered, as all self-aware performers discover, that my most complete conception of any piece is always incomplete. Concerts have demonstrated time and again that it is the audience that completes the performance, that this seemingly passive dimension is in fact the sine qua non of the telling musical experience. I need to play for others so that I can properly understand what I'm doing.
How I am lamenting the drying up of concerts because of the virus. Music performance has migrated wholesale to the internet and, at least as far as classical music is concerned, this is the wrong place for it. There is no real audience on the internet, all performances are upsettingly incomplete. We need a dedicated room where people gather for a purpose, where the doors are closed, where the punters take a seat and are still, captured, and the music takes as long as it takes. And the performer is right there in the room. This is a concert. (Better still if there is no talking, just music - but that's another gripe.)
Streaming to an invisible something that can click you into oblivion in a matter of seconds, making music mediated by several levels of electronics, is no substitute. Even a superb performance by an artist of the fullest integrity doesn't make the cut. It finishes and there is nothing...just the next click.
Dear Jacinda, let us gather again soon. Let me see their eyes and feel their hearts beating as they listen. Let those consciousnesses mingle and make a new magical brew.
19 April, 2020
Tomorrow we are to get an idea of what happens after the lockdown. Jacinda and her team decided that there would be no grieving in New Zealand over preventable deaths and on this level we have achieved a resounding success (let me not be speaking too soon). There has been terrific online access to all the science that is going on around the virus and I think we've mainly felt we have been on the right track. Only one little niggle: if one has to get the virus to become immune then when it has passed through this time we will be one of the least immune nations in the world.
I am a pensioner (thank heavens) and am in that vulnerable age group. Mike has a few years on me and would have a harder time throwing the virus off. So I am grateful for the compassionate approach shown by the leadership. We have been okay through the lockdown.
Once the virus arrived here things seemed to happen very quickly. I managed to get in one scheduled event before the low ceiling on gatherings scuttled the concert scene in toto. That event was a great one though and I'm only sorry that I was enjoying myself so much I forgot to take any photographs.
It was the windup (aka 'the wake', thank you Bruce) of the Kerikeri International Piano Competition (KIPC), itself a wonderfully successful event which began as a national competition in 1987 and had a great run as an international event for the last 15 years or so. By the time our party was over I was convinced that its success could be fairly and squarely attributed to the sheer loveliness of all those Kerikeri people who involved themselves in it. John Jackets, Sally Macauley, Sylvia Burch and Winsome Fisher spoke – all wonderfully interesting, warm and happy. I offered some of my own memories (I had judged several times and was involved from the very beginning) and played the Bach D major Partita.
The long drives up and back were fabulous, even the Auckland motorways.
And then lockdown (I'm missing driving the most).
Most of my scheduled events have so far been postponed with only a couple of outright cancellations. What the situation has meant though is that I am suspending my retirement. My plans for this 'final' year are now officially toast and I will play at the very least until this year's commitments have been met. But it feels pretty open-ended. As long as Mike is happy to go on the road with me I can keep going. I have put my scheduled repertoire aside for now and have been working on the Chopin Etudes through the lockdown. If we go down to Level 3 next week I'll celebrate by moving on to some Liszt, Brahms and Rachmaninoff etudes!
Meanwhile, like every other New Zealander I'm tidying up the house and garden and doing some baking. Bella Hristova has done a video with the recipe and method of making a 'banitsa'. I had a go. Not as sophisticated as Bella's but it was delicious. Here's the link to Bella's demo: https://www.youtube.com/watch?v=y3QCwbGKdk8
10th February
I have a very poor history of diary-keeping. Many times I have begun a year with a determination to keep a written record of my doings and thinkings but always I start to chafe under the discipline of it and then I just let it go. This year though is different. It is my final year as a professional musician and I will be confronting my whole history of performing in New Zealand, the people and the places, the memories and the present realities. I'm hoping that if I post this first instalment I will feel honour-bound to continue.
[Good luck with that…Ed]
I began my performing year yesterday (9 February 2020) with a concert in Waikanae. It was a
beautiful Summer's day and the hall was sold out in advance - the first time this has happened in my memory. I played with the Amici Ensemble, a group of distinguished musicians from the New Zealand Symphony Orchestra under the direction of violinist Donald Armstrong.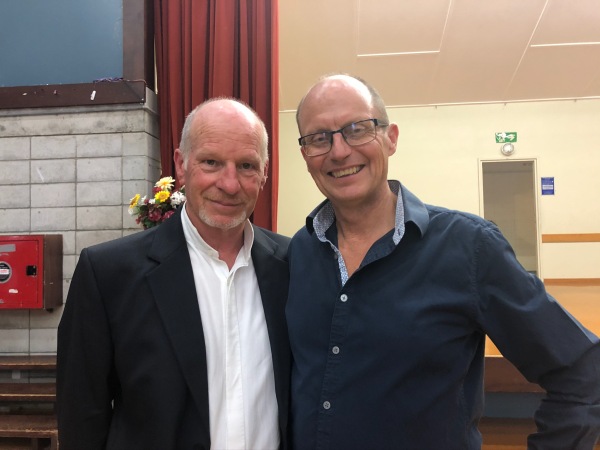 We gave an all-Bach programme: the D major Partita, a Trio Sonata, a Brandenburg Concerto, and the D minor Concerto for Keyboard and Strings.
I will not get into any self-reviewing here
[If the head of a music school can, why not you?...Ed]
Chill, Ed... where was I?...but I can say that the silence when we played was impressive. Not a cough or a rustle. Even the retrieval of a fainting patron was done with almost no disturbance.
I first played for the Waikanae Music Society in 1986 and have played there many times in the 34 years since then, both solo recitals and chamber music. The concerts have always been in the Memorial Hall, on a small stage at the end of a basketball court. In the early years there was a Grotrian Steinweg piano, but this was upgraded to a Fazioli a few years back, one of the few in New Zealand and a very good one. I feel I have learned to play it better with each performance and it was a perfect pleasure on Sunday.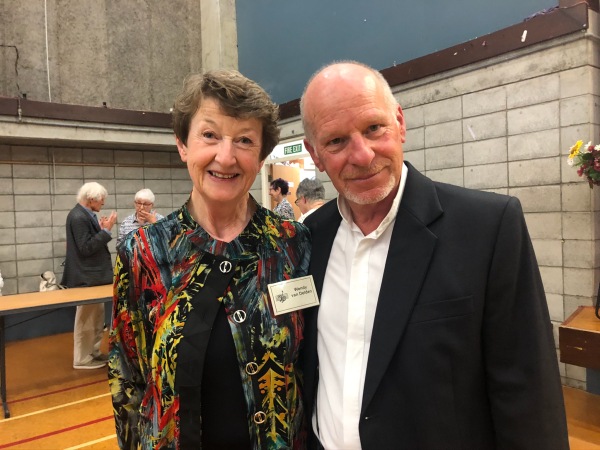 From the beginning my performances have been organised by Wendy van Delden, a dedicated
thoroughly admirable woman, devoted to music and her community.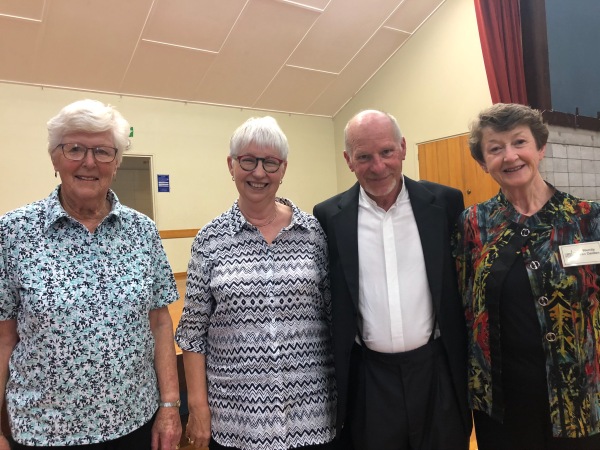 Also among the dedicated and thoroughly admirable are Helen Guthrie (L) and Elizabeth Kerr and we are a very happy party!
The event can't be considered without mentioning the disaster of the disembowelment of RNZ Concert - our classical music radio network. This was on everyone's minds as we are all threatened with losing a service of inestimable value. There was a petition there for signing and Elizabeth read out a marvellous statement from Wilma Smith (yet another fabulous woman).
[Any fabulous men about?…Ed]
Shut up, Ed. Here's what Wilma wrote.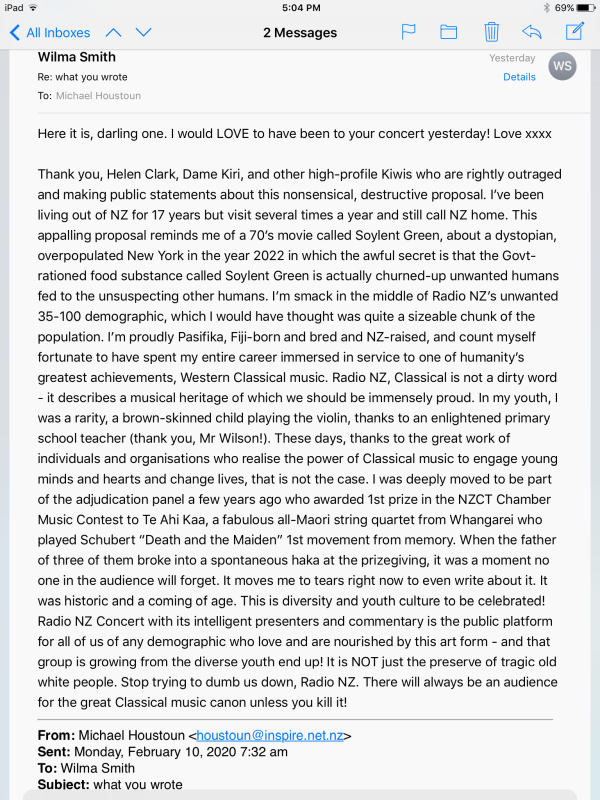 I've written to the Prime Minister. It took me all day.
Dear Jacinda Ardern,

My name is Michael Houstoun and I am a musician. I am writing to you because I am very concerned that a terrible mistake is being made in the radical downgrading of RNZ Concert from a vital force in New Zealand's artistic and cultural life to a broadcasting nonentity lost in an AM wasteland.

I will be retiring this year after a lifetime spent playing classical music to music lovers from one end of New Zealand to the other. I no longer have a professional self-interest in the continuation of RNZ Concert but I do have an understanding of what RNZ Concert means to these same music lovers. More than that I have a clear vision of the role it has played in my own history. What I see is a range of tremendous opportunities, affirmations, inspirations that will now be unavailable to the emerging generation of talented New Zealand musicians.

My advent as a national artist was brought about by RNZ Concert (in its incarnation in the late-60's). A finals performance in an Auckland competition was recorded for broadcast. The head of Concert, Helen Young, heard it and played it to the General Manager of the New Zealand Symphony Orchestra, Peter Nisbet. I was then invited to make a studio recording with the orchestra specifically for broadcast. We made a second recording and only after that did I begin touring. It was a perfect introduction to wider New Zealand and was entirely set up by Concert. In subsequent years (until the catastrophic destruction of Wellington's Broadcasting House) I was invited - as were all my performing colleagues - to record repertoire for further broadcast. I received fees for this and I was glad for them, but it was the exposure that was the most valuable component of this relationship with Concert.

The advantages of all this for a dedicated young musician are easily seen and it is tremendously disheartening to have to watch them being taken away. With no such opportunities you can be certain that the young New Zealand musical talents will leave as soon as they are able.

One of the miracles of classical music is its capacity to console. As we age the magic of the material world begins to show itself as a sham and we can begin to regret the waning of our powers. Listening to music has a calming effect but it is a lot more than the radio being 'company' for the old and lonely. Music can untie otherwise intractable knots and can leach away our griefs. It can serve as both tonic and catharsis.

I have felt a not-so-subtle disdain for the elderly in the way the new structure has been presented. There will always be the elderly and they will always need consolation. The free access to a classical music radio station will provide it for more spirits than the bean counters at RNZ would care to entertain.

If I were to advance only one argument it would be this one - the opportunity for a government to compassionately provide solace for those who can get it through the radio. The young, after all, are resilient.

However, my fervent wish is that you can stop the present move and that RNZ Concert can continue with a full staff and on an FM frequency. And in the best possible world you would build a facility where our young talented instrumentalists could once again record the hard-earned fruits of their labours and have them broadcast to the nation.

Yours sincerely,
Michael Houstoun
Hopefully there will be good news by the time of my next blog.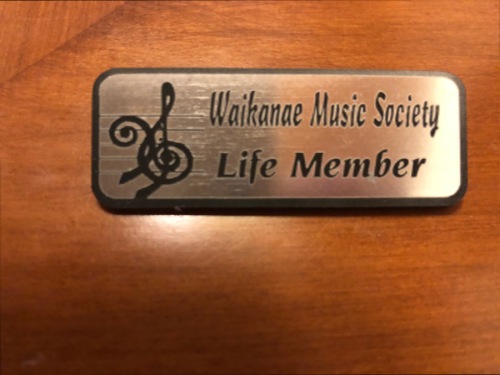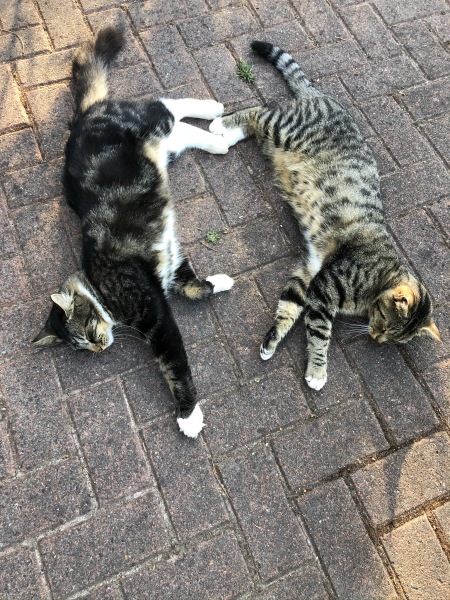 Final Concert
Amendment
Because my retirement has been suspended (see retirement announcement) this will no longer be my final concert. Instead it will be a BEETHOVEN BIRTHDAY CONCERT - an all-Beethoven programme with further details to be revealed in due course.

(July 7, 2019) My final public performance (see below) has now been confirmed and will be a solo recital to take place in the Great Hall of the Auckland Town Hall on Wednesday 16 December, 2020. This is the day of Beethoven's 250th birthday and I will play his magnificent 'Waldstein' sonata as part of the celebration. Tickets for the concert will go on sale from 16 June, 2020 and will be purchasable through the Auckland Live Ticketmaster system.
Retirement Announcement
Amendment
Owing to the coronavirus many of this year's performances are being rescheduled. As a result I am suspending my retirement at least until these commitments have been met. The GIGS page will be updated accordingly.

After almost 50 years as a professional musician I have decided to retire, hang up my fingers, call it quits and begin a new phase of my fortunate life. Although I do not have an exact date yet (I'm working on it) my last performance for the paying public will be towards the end of 2020.
For a while I thought I would not say anything and just quietly fade away - still an attractive option - but my musical life has been given to me by my beautiful New Zealand audience and it only seems right to let them know.
To have a talent and to have a career are not the same thing, but from the very beginning people wanted to hear me play as much as I wanted to play to people. I had played all over New Zealand before I went overseas for the first time and the audience continued to grow with each return visit. They have never gone away. Since I came back permanently to live in the early 80s they have been almost my only audience and I love them with the full strength of my grateful heart.
To find year in and year out that they are still there has impacted on my life in two ways in particular. Firstly it has affirmed my musical spirit. Although I use my cognitive brain when I prepare my musical performances, nonetheless the substance of those performances is entirely instinctive. I have always trusted my musical intuitions and my audience has said "Way to go, Michael!" When one's preparations are made in solitude this is truly a most important affirmation.
Secondly, that the audiences should continue to show up in considerable numbers has made me a good bet for the people who put on concerts. This means that I have been able to make a living as a soloist and chamber musician and have not had to look beyond my performances for income. How wonderful! I was not cut out to teach and it has been a great blessing not to have to.
And now I am a pensioner and the pressure is off.
I could mention a third thing that I owe to my audience and that is my repertoire. I resolved early on to always offer something new (at least to me). And so year after year I have prepared new recital programs, new concertos, new chamber works. This has been personally rewarding in a great many ways and I like to think it has been a way to pay back some of the loyal support that has sustained me.
I have played (often many times) in Invercargill, Tuatapere, Gore, Balclutha, Dunedin, Queenstown, Wanaka, Timaru, Ashburton, Akaroa, Christchurch, Greymouth, Motueka, Nelson, Blenheim, Wellington, Lower Hutt, Upper Hutt, Paekakariki, Waikanae, Otaki, Featherston, Martinborough, Masterton, Palmerston North, Feilding, Wanganui, New Plymouth, Te Awamutu, Hamilton, Putaruru, Waipukurau, Havelock North, Hastings, Napier, Gisborne, Opotiki, Whakatane, Rotorua, Taupo, Tauranga, Cambridge, Manukau, Auckland, Takapuna, Warkworth, Whangarei, Kerikeri, Kaitaia. This year I'll add Norsewood to the list. And I could mention a tin shed outside Timaru somewhere where I played the Goldberg variations on the longest hand-built piano in the world.
Time to fold up the tent.
A Greekish Trinity - Mike Nicolaidi
Tales from the book of Michael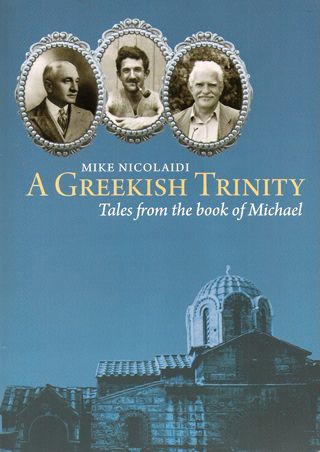 "At the time of my father's death (in 1999) I was spurred to examine the enigma of Nicolaidi, the strange surname I had carried from birth, and to grapple with the slippery concept of personal identity. I made many journeys - some purely of the mind, and some external and more physically demanding for the hard research. Destinations included the UK where my father was born, and Turkey and Greece at the edge of the Oriental and European worlds.
It was from the Eastern Mediterranean region that my Nicolaidi grandfather, whom I never knew, most probably sprang.
All three of us were Michael.
This book is not a memoir although events from my past and present life are contained within it. Rather I see it as a Greekish trinity, a 'devotion' or bonded love story, melding fact and fiction, reason and emotion in overlapping worlds of so-called reality and the imagination."
.....Mike Nicolaidi
To get your copy of this book you can ask at your local bookstore, or order online from the publisher's website: www.SteeleRoberts.co.nz
The Concert Experience
On October 15 2013 I played an all-Beethoven sonata recital at the Regent on Broadway in Palmerston North. I had played the same programme three days previously and was very happy to be playing it again. The first sonata - in E flat Op.7 (such a muscular nobility, full of the warmth of Beethoven's humane spirit) - went well. The first two movements of the unfortunately nicknamed 'Moonlight' sonata also went well (the sublime Adagio sostenuto a meditation on the stillness and silence of Death itself - the sting is felt but without any romance). I then began the desperate finale. At some point during the repeat of the exposition a flash went off. "Oh no", I thought, "let it be only once", but before that thought was completed it went off again and I stopped.
I stopped for one reason and that reason was the likely consequence of not stopping. I could have carried on. The music is in my hands and fingers, I can play it half asleep. But if I had not stopped the flashing would have continued, perhaps even escalated as other patrons got the idea it was okay.
When a performance is going well there is a phenomenon that occurs in the hall, a phenomenon which can never occur when a music lover is listening to a CD or watching a DVD. A silence of a very particular order descends, a galvanized silence, and everyone is present and attentive in a way that is hardly possible in 'ordinary' life. The music takes on a life of its own and its meaning (a dangerous word, but not entirely wrong) is enhanced. The performer responds to the atmosphere in ways that they can not anticipate – spontaneous discoveries and other felicities suddenly appear. It is the proper concert experience – when the whole is infinitely greater than the sum of its parts - and the unspoken hope of it is the reason audience members part with their money to buy tickets.
But it is a fragile thing. The bright red vibrating flash of a smartphone camera obliterates everything that has been built up to that point. The attention of the entire audience moves from the music – the business at hand – to the interruption. On the stage it is as if all the air has suddenly been sucked out of the room.
I was furious because I was forced to stop. And my fury was sufficient to have me address the miscreant and to make me leave the stage.
When I returned to play the second half of the concert I was greeted with sustained warm applause, applause that was saying not only 'welcome back', but also, I believe, 'good on you'.
I see myself as a pretty level-headed artist – much less 'tortured diva', much more '10% inspiration, 90% perspiration' – and it takes quite a lot to throw me off my stride. But I will go out of my way to protect the concert experience. Unless you are given to meditation at the highest level, it is perhaps the only situation in daily life where the realms of the transcendental can be breached. Beethoven suggests as much when he says, "Music is a higher revelation than all wisdom and philosophy".